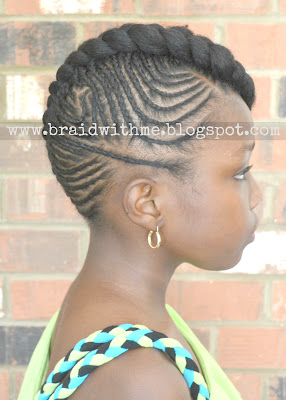 Intricate Cornrow Updo on Natural Hair
We're back!! I haven't blogged much lately because we've been enjoying the summer and getting some much needed family time by taking a vacation!!
Now let's talk about the style! I started with clean, moisturized, and detangled hair. Next, I began parting the hair. I made an off-centered part in the back and I also created a smaller section of hair in the front that led  down to the lower left side of her head. I then began to make free style cornrows as if I were making a Mohawk. I did not continue the braid all the way to the end. Once I reached the center part, I discontinued the braid and let the rest of the hair remain free. The hair that remained free was later formed into one large cornrow that started from the nape and continued to the front of her head. The cornrow was then formed into a rosette and pinned into place. I also used the remainder of the hair on the left side to form more cornrows and two more rosettes.